2D and 3D configurators: gamification and customer loyalty
In today's market one of the most important factors is undoubtedly the engagement of the customer, that is his "trust" towards the company, which is then transformed into a bond that turns it into a customer.
In the light of this basic consideration it is possible to draw up a list of what are the most effective practices to achieve this result.
Without a doubt, providing customers with the ability to customize the desired product to their liking greatly increases engagement and at the same time strengthens the credibility of the seller.
This is possible thanks to the product 2D and 3D configurators that, working through a visual interface, allow you to customize an object by changing materials, colors and adding accessories and options of various kinds in a defined process "mass customization".
Some studies, however, have highlighted that the presence of too wide a choice can potentially generate confusion and loss in the customer, leading him to never decide and not buy the product.
The task of the configurator, therefore, is to guide the customer step by step in the choice, based on the famous "4 C" defined by the scholar Sheena Iyengar:
Cut: to offer the customer only the main customization options, considering that an excessive choice could generate disorientation.
Concretize: the configurator must ensure, through the most advanced rendering techniques, a clear and optimal display of the product.
Categorize: group the customization options into well defined categories, to provide the user with a clear and unique "path" to follow.
Condition: starting from the simplest choices to gradually get to the most complex ones. To avoid the "tabula rasa" effect it is also useful to provide presets with some examples of customization, in order to stimulate creativity and customer involvement.
This latter concept is of particular importance in the use of configurators: they are based on the criterion of "gamification", or the use of elements and principles of game design in different fields.
In other words, the configurator relies on the fun and interactivity of the user, stimulating certain active behaviors through some playful mechanics that make fun and enjoyable daily actions and/ or generally considered trivial.
In addition, the ability to customize a product gives the customer the feeling of creating something unique and totally characteristic, resulting in gratification.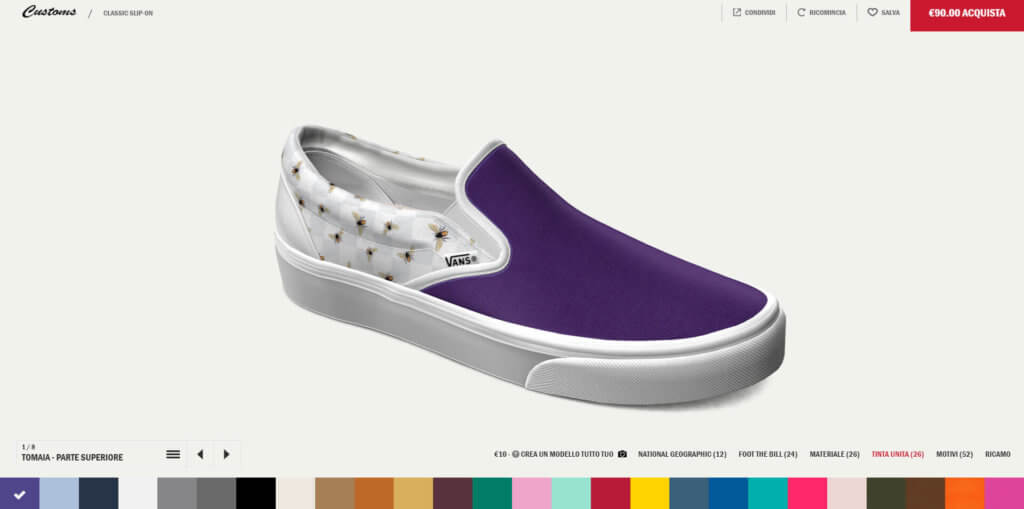 The use of configurators and the concept of gamification are now more and more widespread and established, and over time have denied that semblance of lightness and superficiality that initially permeated them, providing confirmations in constant increase in terms of reliability and profits.