Build an outsourcing Team with WWG
Building a development team outside of your corporate structure, staff augmentation, is an opportunity that is becoming increasingly popular. Have you thought about it? WWG wants to draw your attention to the many benefits in terms of scalability, efficiency and operational excellence.
If you are a startup that is thinking about an MVP or you are a large group that is reacting to a market impulse you will face problems related on the one hand to the organization (and reorganization!) of your teams and the need to always maintain high quality of your products, regardless of the frequency and type of release. Here are all the benefits that you will get from our augmentation staff service: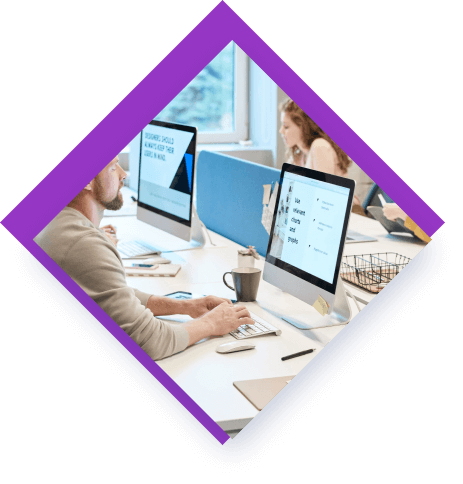 1. You can face the challenges of productivity
If the number of your activities is increasing, the management of your projects also becomes a problem. More ambitious projects require dedicated teams or a redefinition of complex tasks that you already complete. Activities that need to be divided into smaller blocks, divided between different people and monitored. With our augmentation staff model all this will be entrusted to teams that respect certain principles and make use ofagile project management practices..






2. You can increase your team and decrease costs
Most companies start after a period of onboarding to learn the process to follow. Every new team must have a proper system and discipline. The installation of all this takes time even during the production process that cannot stop. All this creates a real overload to your organizational model. The waste risk is very high. Team outsourcing is often more convenient. A team augmentation process is by definition more flexible. Your new team will only experiment with potentially more productive solutions.





3. Attract (and manage) talents
Testing a team augmentation process means having a much larger talent group to choose from. It can also be managed externally. This encourages the process of acquiring new talents, the identification of the best developers in the market. WWG has a great experience in this type of supervision and research proven by a rating of 4.8 out of 5 stars by customers on Clutch.





4. You have immediate experience
The WWG developers network have extensive experience developing custom solutions with leading customers in different product categories. Thanks to a wise management of the distributed teams, our software house is able to offer this type of services to startups that have established themselves outside the Italian borders and companies that usually operate on the international market.Rotating talents, often changing some key figures makes all jobs more challenging and promotes personal growth.





5. You'll have rebellious talents
New skills that customers are looking for can be found more easily in those teams where the inclusion of diversity is seen as a strategic business priority. Team augmentation is never a simple task, especially in a hierarchical organization.For a short time, some professionals fear that their work might disappear. But soon, when you begin to see the results, fear turns into enthusiasm.





6. Invest in knowledge
Expanding a development team through a paired group also helps to ensure that no one ever has a monopoly on experience, information, good practice or knowledge.Why don't you try mixing your teams with ours, moving people around? This will make your code transferable, understandable and of higher quality.





7. You can automate and test
Augmentation team is a strategy that allows you to stay up to date on which areas your team is strong and which need to be improved. The single efficient and productive member will be pushed even further to improve to deliver a product on time or in advance. Thinking about automating as many business processes as possible (CI/CD, continuous integration/continuous delivery) and starting automated tests will be a normal consequence.





8. You have the right to the state of the art
WWG has been working with developers for twenty years. With our augmentation team service you can forget about training your teams and focusing only on the technology to concentrate rather on the solutions offered by your product, values, principles. The combination of such qualified teams will make everyone more responsible, balanced and flexible. Ready to face any unforeseen events.





9. You can co-create
An agile team enlargement process is the most effective process to easily find solutions to your organizational problems of developing and releasing new software.Ours includes a PI planning every quarter, daily standups, weekly sprint planning meetings, the use of an agile and lightweight tool to test the tasks to be done, those under management and those made.