Audit and Code Review service
You need a code analysis! Whether you are a startup struggling with an MVP , a big entity in which there are many development teams or a medium-sized company that wants to understand the quality of the software that has at home, at some point, will need the code review .
Here's how WWG can support you in this moment that can be strategic for your future and very sensitive for your present.
Code control
To measure the quality of your code as objectively as possible, it is necessary to request an audit or a code review. In short, a punctual, articulated and thorough control. It is good practice that this type of review is carried out by a third-party software development company. It is better, in other words, that the control is carried out by a group of professionals who have not had anything to do with software development that they are called upon to audit.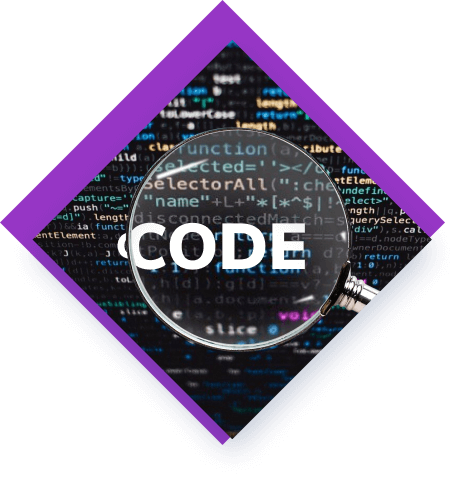 What happen when the code is revised
Finding high quality specialists to analyze source code is never a trivial task. There is no certification for this type of analysis. Unlike penetration testing, security vulnerability assessment or other specific aspects, there is no way to know in advance that code review services are conducted in depth and on time across all lines of code.
In addition to our best practices, exception management, complexity checks, architecture review, testing and user interface you will have a code review report that includes the strengths of your code, and provides appropriate solutions or corrections where needed.
Benefits of WWG code review
Here are the competitive advantages that the WWG review guarantees you:
The opinion of the experts
Our teams operate in different industries, have been developing for years with high quality standards, collaborate in an agile way to face the volatility of the markets and really work together with customers to realize solutions of high value. Calling realities like WWG will allow you to see the limits of your code before they cause problems in production.
You will avoid paralysis
The long documentation cycles, the long development cycles, the changes of development teams, maybe from insourcing to outsourcing, the tecnological paradigms or management changes, in all these cases, you can run the risk of paralysis. In order to avoid that a software no longer works and no one is able to understand the reason or the causes, it is better to resort to a code review.
Analysis of the current situation
Teams handling your code don't care what you planned when you asked for help from a software house, an external partner, or what you planned to accomplish when you started developing.We will worry about what you actually have available and will review the code as it is, not the documentation or files that were created to drive the development.
Speed up your development
WWG auditors want to ensure the high quality and maintainability of your code.The review service simplifies and accelerates the software development process like very few other practices.Reviews can help you detect bugs, identify limit cases, detect design problems, and prevent anti-patterns from becoming blocking problems over time.
Common analysis and defects
The main purpose of code review is simply to help you be a better developer. When you know that your code will be reviewed by another developer, you'll write the code differently. You take the time to figure out if your methods are the best. Add more in-depth tests. Write code that needs to be readable by everyone. Spend more time thinking about side effects and unintended consequences.
With WWG you can:
Prevent technical debt from becoming a problem
Focus on new features, new sprints and leave the rest to us
Get detailed information on best coding practices
Have a totally customized review, ideal for your developers
Count on automated scans, manual revisions and in-depth checks
Have prospective work from our scalability estimates