WWG's Clutch 2021 Rewind
Here at WWG, embrace change in all its forms and we never stop. From full-cycle custom software development to startup consulting — we've got all your bases covered. With more than 20 years of industry experience, we aim to elevate businesses and help them discover their hidden potentials. 
Before we welcome a new chapter, along with the innovations it would bring us, we would like to look back on this adventure-filled year and see how our beloved clients supported us with Clutch's Year In Review for 2021!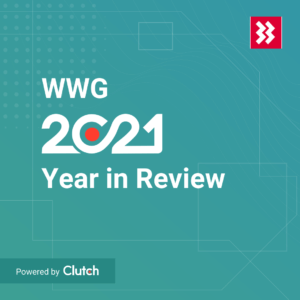 Clutch is the leading B2B reviews and rating platform. Headquartered in Washington, DC., their team of analysts collects client feedback, analyzes industry trends, and curates Clutch's reviews to help businesses connect with the top-performing service providers for their needs. In their new Year In Review, they recognize the milestones reached by service providers like us throughout the year.
Clutch's review indicates that we've earned a perfect average review rating of 5 stars this year! Customer satisfaction is a top priority for us, and we're glad that we're able to witness such enthusiasm and positive feedback from our customers.
Additionally, we've also obtained a 100% NPS rating this year! NPS, or net promoter score, is a metric that indicates how willing our clients are in recommending us to another company or colleague. This outstanding feat truly underscores the trust and confidence our clients give us.
We would like to extend our deepest gratitude to our clients who took the time to leave their honest feedback on our Clutch profile. Your constant support and appreciation of our hard work is the reason why we were recognized as one of the top product design agencies in Italy for 2021.
Are you ready to transform your ideas into reality? Contact us today, and let's discuss how we can work together to realize your dreams!